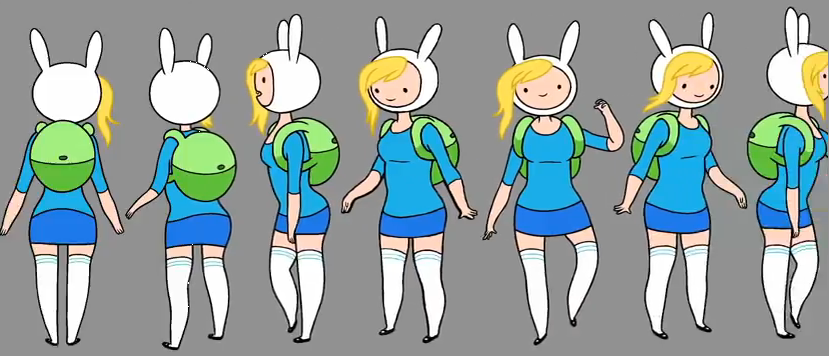 MATHEMATICAL!!!
September 21, 2012
Ok…So everything had been purchased to start construction on my Fionna cosplay from Adventure time. Because I felt that the costume was rather simplistic, I decided to go all the way with it and create all the props as well. Along with the shirt, hat, and skirt, I will be making the backpack, crystal sword, and her trusty companion Cake (as a cute little plushy). Yay for felt! Stay tuned for updates!
Tutorials I will be using:
Backpack tutorial
Fionna Hat Pattern Pieces
Video tutorial for Fionna hat patterns above.
Finn's Epic Sword Video tutorial
September 26, 2012
Using the pattern from the tutorial above, I cut out the pattern from two different colors of fleece. I thought the colors were perfect and the pattern was great. However, I think that were a few flaws to it. When cutting out the pieces that go along the sides, make them longer than the pattern calls for, it felt like they didnt give enough extra room for them to meet up along the sides and create the color divide evenly around the whole bag. So, just pay attention. Also, I just did the straps about the same length at the sides, but less wide.

Other than that, I also did a few things differently, I added in the zipper, mostly because I want to actually be able to use the bag while at the party for either holding my sword or stuffing Cake into it lol. After everything, I stuffed the bag currently with Polyfill. My only complaint is that this pattern makes the bag more boxy than circular. Then again, it's a costume…of a cartoon. You can't be completely exact lol. More construction coming soon!!!
I used the pattern from the website above for the hat, it turned out perfectly. I used her video to make the extra flairs that made the ears stand up the whole time. It worked out great! I used velcro for the closure, too. After that, I ended up spending my last bit of time making the mini skirt…I use a mini skirt that already fit me as a pattern. The material was a stretchy knit, so it worked really well with an elastic waist band and slipped on and off super awesome.
This was the finished product for my Halloween party. Sorry that the tutorial kinda fell apart…I tend to try to give myself a lot of time to finish things and then end up running out of time anyways.